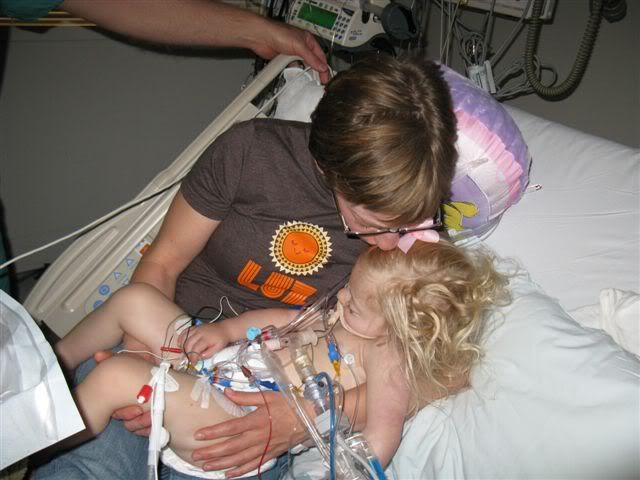 What do you say when you are so sad you don't even want to talk about it?
What do you say when you all you want to say is that you hate people who haven't lost a child? HATE. Resent. Loathe. Despise. Ok, that is too harsh. Some of the greatest support we've received has been from people who haven't lost a child. But it isn't fair! I know life isn't fair...but it isn't fair! (Insert punching your lights out)
What do you say when all you want to do is kick and scream and curse and flail around in a sobbing fit?
What do you say when you don't know if you like your life, who you are, what you do with your time?
What do you say when you feel you've said it all before, over and over. Anger, bitterness, confusion, unfairness...
What do you say when you have seen your angelic, perfect, gorgeous, full-of-life, first born child gasping for breath, eyes full of fear, right in front of your face?
What do you say when you feel so lonely in a cold, empty, quiet house?
What do you say when you feel like no one cares or understands?
What do you say when you don't have the words?
Why do I want to say what I can't say?
Why do I try?
What did I do before facebook and blogs when I needed help with understanding my inner turmoil, questions, doubt, despair?
Did I pray more?
Did I rely on face-to-face human contact more?
Family?
Phone calls to friends?
Is it foolish to speak of it publicly?
What am I hoping to accomplish by shouting it to the world?
How can love be so damaging?
From A Grief Observed
by C.S. Lewis
After losing his wife:
He shows impatience with those who try to pretend that death is unimportant for the believer, an impatience which most of us feel, no matter how strong our faith.
Don't talk to me about the consolations of religion, or I shall suspect that you do not understand.
I am grateful to Lewis for having the courage to yell, to doubt, to kick at God with angry violence. This is a part of healthy grief not often encouraged. It is helpful indeed that C.S. Lewis, who has been such a successful apologist for Christianity, should have the courage to admit doubt about what he has so superbly proclaimed. It gives us permission to admit our own doubts, our own angers and anguishes, and to know that they are a part of the soul's growth.
This book is a man emotionally naked in his own Gethsemane. It tells of the agony and the emptiness of a grief such as few of us have to bear, for the greater the love the greater the grief.
I almost prefer the moments of agony. These are at least clean and honest.
I sometimes think that shame, mere awkward, senseless shame, does as much towards preventing good acts and straightforward happiness as any of our vices can do.
Part of every misery is, so to speak, the misery's shadow or reflection; the fact that you don't merely suffer but have to keep on thinking about the fact that you suffer. I not only live each endless day in grief, but live each day thinking about living each day in grief.
To some I'm worse than an embarrassment, I am a death's head.
An odd byprodcut of my loss is that I'm aware of being an embarrassment to everyone I meet. At work at the club, in the street, I see people, as they approach me, trying to make up their minds whether they'll say something about it or not.
"There is no death", or "Death doesn't matter." You might as well say birth doesn't matter.
"She will live forever in my memory!" LIVE? That is exactly what she won't do. You might as well think like the old Egyptians that you can keep the dead by embalming them. Will nothing persuade them that they are gone? What's left? A corpse. A memory. A ghost. All mockeries and horrors.
I was getting from it the only pleasure a man in anguish can get--the pleasure of hitting back.
Whatever fools may say, the body can suffer twenty times more than the mind.
I think I am beginning to understand why grief feels like suspense. It comes from the frustration of so many impulses that had become habitual. Thought after thought, feeling after feeling, action after action, had Lucy for their object. Now their target is gone.
How often--will it be for always?--how often will the vast emptiness astonish me like a complete novelty and make me say, "I never realized my loss till this moment? " The same leg is cut off time after time. The first plunge of the knife into the flesh is felt again and again...